---
Regina's Blackstar African-inspired pillows are made of authentic wax print cloths from Ghana. These luxurious hand-crafted cushions are an easy way to transform the look and feel of your home while bringing vibrant color in to any space. We produce a limited quantity of certain designs based upon fabric availability.
---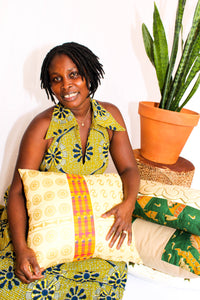 Catherine Battles, Lead designer
Catherine "Aku" Battles is the lead designer at Regina's Blackstar. The company is named after her mother, who encouraged her to attend design school when others wanted her to pursue more traditional careers. Catherine graduated from Rita's House of Design, one of the top fashion houses in Ghana. She opened her own shop and managed ten employees/trainees, teaching them how to sew. The company, Naa Aku Sika Designs, sewed for some of the elite bankers and business people in Accra, the nation's capital district. After getting married, Catherine left Ghana and moved to Germany, continuing her business sewing custom designs. She worked at various tailoring shops, but never had the opportunity to go back to the root of her education, design. Now that her children are older, Catherine is excited about returning to her first love, décor and fashion design.
---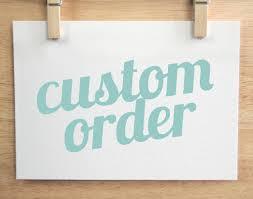 We Love Custom Orders
Our pillows can be customized with any of our designer fabrics and can be purchased with or without an overstuffed poly/cotton blend cushion. If you choose to purchase the pillow cover only, we recommend a 18'' x 18'' insert in your preferred fill option (down, poly-cotton, etc). Your selected design will be featured on the front and back of pillow. Available in various fabric options based on available stock. Please CLICK HERE to see current fabric in stock.
---
Upcoming Events
Visit us at Lorton Workhouse Arts Market!
https://www.workhousearts.org/community-market/
Dates in July, August, September, and October.